October 1st 2022, 1pm E.S.T.
OPERATION BREAST HEALTH
The panel will be in person, live streamed and recorded.  A link will be shared at a later date.
We will be discussing the the increased incidence of breast cancer in the United States Military; the challenges that Military and Veteran women endure in the face of a breast cancer diagnosis and treatment; the health disparities for black and brown women; and possible paths forward as we strike up this important conversation.
THE PANEL MEMBERS:
Introducing the Panel:
Dr. Akiko Chiba, MD  Representing The VA Breast and Gynecologic Oncology System of Excellence.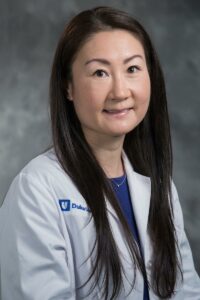 Dr. Akiko Chiba is a board certified general surgeon who specializes in breast cancer surgery. She completed her breast surgical oncology fellowship from Mayo Clinic in Rochester, MN and a research fellow at National Cancer Institute. She is an Assistant Professor of Surgery at Duke University School of Medicine. She serves on the Advisory Board of Breast and Gyn Oncology System of Excellence for the National Oncology Program Office of Veterans Health Administration. Dr. Chiba has a strong interest in clinical and translational research focusing in breast cancer. Her research interest includes breast microbiome, surgical techniques such as nipple-sparing mastectomy, and genetic mutation/high risk patients. She serves as the Co-Investigator in DOD grant funded study on "Modulating the Breast Microbiome to Prevent ER positive Breast Cancer". Her goal is to provide exceptional care to breast cancer patients while contributing to expanding knowledge of breast cancer leading to advances in breast cancer treatment. Dr. Chiba is a fellow of American College of Surgeons.  At the national level she serves on a committee for the American Society of Breast Surgeons, Society of Surgical Oncology, and Association of Women Surgeons.
Moderating the Panel:
Dr. Qwynn A. Galloway-Salazar, Ph.D. – Founder | In Their Honor, LLC – U.S. Army Veteran – Georgia Woman Veteran of the year.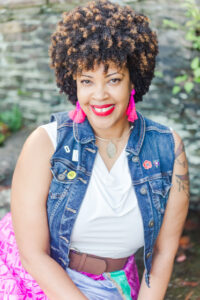 Dr. Qwynn Galloway-Salazar is the founder of In Their Honor, LLC and serves as the Co-Principal Investigator of the Brooklyn College Veterans History Project. From 2001-2006, she served in the United States Army. Her professional experience has spanned over 20 years of working with the military and Veteran communities in local, state, federal, and academic organizations. 
She believes, as a society, the way we make sense of the Veteran experience shapes the support future generations of Veterans receive. As a result, Qwynn has been committed to conducting oral history interviews of Veterans throughout the Nation, listening to how Veterans make meaning of their experiences, and sharing it with larger audiences. Qwynn also serves as an End-of-Life Doula, Death Educator, Hospice Volunteer, and Qualitative Researcher. She is recognized as a thought leader in end-of-life care for Veterans and their Caregivers. Her work has been featured by the International End of Life Doula Association, End of Life University, the International Doulagivers Institute, and PsychArmor: Behind the Mission. 
Qwynn's qualitative research work has focused on women veterans and transitions. Her doctoral dissertation entitled "Post-9/11 Women Veterans' Experiences Transitioning into the Civilian Workforce" shares the stories of women Veterans and is permanently housed at the Military Women's Memorial in Arlington, VA. Her doctoral research also led to the opportunity to serve as a qualitative researcher for the FY21 National Defense Authorization Act (NDAA), § 9104, Study on Unemployment Rate of Women Veterans Who Served on Active Duty in the Armed Forces after September 11, 2001. In her spare time, she mentors women Veteran doctoral candidates along their journey to provide them with support as they launch out to change the world. After being inspired by her late friend, Dr. Kate Hendricks-Thomas, Qwynn started the Legacy Collection, where she collects oral history interviews of women Veterans. As a result of her dedication, she was recognized as the 2022 State of Georgia's Woman Veteran of the Year.
Qwynn earned her Ph.D. from Walden University, specializing in Industrial and Organizational Psychology. In addition, she holds a Master of Arts degree in Professional Counseling and a Bachelor of Science degree in Criminal Justice. She serves on the Board of Directors for the American Association of Suicidology, Minority Veterans of America, and the Advisory Board of the Veterans Studies Association.
Panel Members:
Dr Aditi Hazra, PhD, MPH – Cancer genomic epidemiologist and global health equity advocate.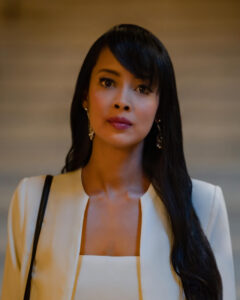 Dr Hazra completed her PhD in cancer biology from The University of Texas M.D. Anderson Cancer Center (Houston, TX; top ranked comprehensive cancer center), a post-doctoral fellowship in genetic epidemiology at the Harvard T.H. Chan School of Public Health (Boston, MA) and obtained certificates in leadership at Harvard Business School, and community cancer genetics at the City of Hope (Duarte/Los Angeles, CA).  She is an Assistant Professor of Medicine at Harvard Medical School, Brigham and Women's Hospital, and VA Boston.  Dr. Hazra's American Cancer Society (ACS) Research Scholar Grant's goals are to improve risk stratification and precision management of DCIS (ductal carcinoma in situ) by integrating sequencing data with social determinants of health in diverse patients. The long-term vision of this "precision health equity" research is to prevent DCIS progression to invasive breast cancer.  In 2021, Dr. Hazra launched STARS (Strength Training And Research for Survivorship; Instagram @starsexercise) Exercise to offer, free, online Strength Classes and cancer survivorship education with a focus on BIPOC women (supported by Athleta's Power of She Fund).  Dr. Hazra serves on the Executive Leadership Committee for the ACS Making Strides Against Breast Cancer campaign.
Demetrica Jefferis – Veteran, Breast Cancer Advocate, Author, Athena Division Photo Subject.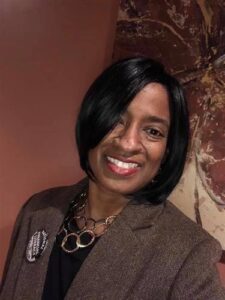 Demetrica "Meechie" Jefferis was born and raised in Chicago. In July 1989 at the age of 18, she began her journey in the United States Air Force. In Aug 2015, after 12 duty assignments, 4 deployments, of which 3 were in support of Operations ENDURING FREEDOM and IRAQI FREEDOM, and 26 years and 6 days of faithful service, she retired as a First Sergeant/Personnel Superintendent.
Meechie is also an 8+ year Breast Cancer Victor! Her cancer journey began the morning of her 43rd birthday on Oct 5th, 2013. She was divinely instructed to perform a breast self examination and discovered a lump in her left breast. Dec 26th, 2013, she was diagnosed with Ductal Carcinoma in Situ, in both breasts. Jan 30th, 2014, she had the first of 4 surgeries over a 14-month period, beginning with a bilateral mastectomy. She chronicled her journey through cancer and life beyond cancer in her book, "No More Bad Days."
In Sept 2018, she stepped out on faith to pursue her calling in the financial industry as a licensed Financial Professional and Financial Literacy Educator. To date, she has traveled and provided free education to more than 700 families all across the United States, and secured more than $20M in financial assets helping communities secure financial stability and independence.
Sheila Johnson – Air Force Veteran and Breast Cancer Advocate, Athena Division Photo Subject.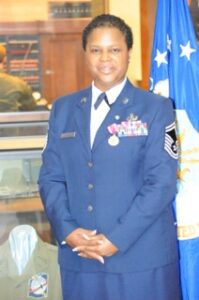 I was honored to recently serve as a Consumer Reviewer for the Department of Defense (DoD) Breast Cancer Research Program. Serving the DoD was not new for me. For over 25 years, I served in the Air Force as a records manager, with deployments to Saudi Arabia and Germany. In 2009, I was a Senior Master Sergeant (E-8) serving on Scott Air Force Base when I started feeling a pain in my breast. A military physician sent me for a mammogram, and it was later confirmed that I had breast cancer. Further tests revealed that I had advanced Stage 4 ER+ HER2+ breast cancer, with metastases to my liver and ribs. It was very difficult being sent straight to a civilian hospital for follow-up and treatment. Not only did I feel like I was on my own, entering the civilian world, I could foresee that conquering breast cancer and fighting for my life was now going to be my mission. Being told I had metastatic breast cancer at initial diagnosis was shocking and completely changed the course of my military career and life. Within months of my diagnosis, I was medically retired from the Air Force. I was very disappointed to have to leave the Service. I wanted to advance to Chief Master Sergeant (E-9), but breast cancer cut my military career short. This is NOT how I wanted to retire.
I started my treatments and underwent mastectomy with reconstruction. Despite the challenges I faced, I feel it is now my duty and calling to do something about breast cancer, not just for me, but for other Service members, Veterans, and African American women. I became an active member of the St. Louis Breast Cancer Coalition, which provides an avenue for me to speak with, and on behalf of, these unique populations of women. My local involvement in advocacy also led me to become an advocate with the National Breast Cancer Coalition (NBCC). Through my advocacy work, I learned that the DoD was supporting innovative, high-impact research that was already proven to have made a clinical impact. As a woman with ER+ HER2+ breast cancer, I have been treated with Herceptin® combined with anti-estrogens and aromatase inhibitors for over six years, since my initial diagnosis. Thus, it was an honor to meet Dr. Dennis Slamon at an NBCC summit. I knew that the DoD funded Dr. Slamon's early work on Herceptin® and thus benefitted me as an active duty Service member, and now as a Veteran. It is a full circle, with me giving 25 years of service to the DoD, and the DoD giving back to me as a breast cancer patient.
Now as a consumer reviewer serving the DoD BCRP, I feel I can give back again. I appreciate the opportunity to meet and hear from the scientist reviewers, and to share the experience with the survivor community. When I was diagnosed, I remember wondering to myself, "With all the research that has been done, why haven't scientists found a cure for breast cancer yet?!" While I and other breast cancer survivors are anxious and frustrated that no cure exists for metastatic breast cancer, and yet, I walked away from the peer review experience feeling assured that researchers are indeed working hard and trying to find solutions to end this disease.
Diana Danis – Veteran's and Women's Advocate & Activist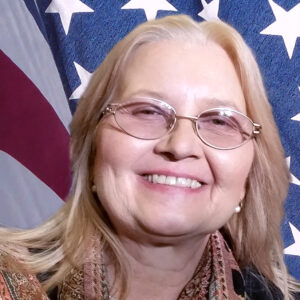 Diana D. Danis is a nationally acclaimed Veteran's and Women's Advocate & Activist of over 40 years. Her accomplishments include Content Developer, Writer, Author, Mentor and Public Speaker. Her contributions to legislative efforts have resulted in the development and passage of a number of key bills over the years and include numerous testimonies before the US House and Senate.
An Army veteran, Danis works with several national collaborative teams on the long-term health, personal issues, stories and legacy of women who serve, access to appropriate and timely healthcare, claims assistance and support for women veterans using VA benefits and
healthcare. Her work has concentrated on sexual violence in the military, toxic exposures across generations with emphasis on burn pits, PFAS (runway foam), chemical, biological and nuclear contamination on US military installations worldwide that have led to the injury and deaths of veterans and their families.
She serves as a Ft. McClellan Army Post Toxic Exposures Team Administrator.
Danis is Social Media Lead Coordinator for "Service: Women Who Serve" with some 12,000 members and over 150,000 national and international followers. The platform provides research, resources, referrals including civilian, DOD and VA information, resources, updates and referrals for military women and veterans.
Since 2017 she has served on the legislation driven Military Women's Coalition (MWC) Steering Committee. Chairing the Sexual Violence/Domestic Violence Policy Committee and developing resources for those suffering health effect of toxic exposures, including, breast, uterine and ovarian cancers as well as numerous lung and pulmonary issues.
Founder/President of 1st US national social justice organization for women veterans and military women – National Women Veterans Conference (NWVC). Dozens of Congressional meetings covering major issues impacting women in the military and women veterans, with emphasis on toxic exposures, sexual violence and families.
During both military and civil service, Danis distinguished herself with the American Forces Network, Europe, earning Multiple distinguished broadcast journalist awards.
As a founder and leader of the International Women's Coalition, Germany she contributed to the formulation of Family Crisis Centers across multiple US military commands in Europe to address domestic violence against women and children of military personnel.
2019-2021 Radio/TV Interview Program "America's Heroes Group", and Chicago Newspaper Column "Chicago Crusader" – VOICES. Columns on a range of critical issues impacting women who serve.
2019 Inaugural Award, Women Veteran Trailblazers, Department of Veteran Affairs
2015 Lifetime Achievement Award Women Veteran Social Justice (WVSJ)
2015 Founding Co-Director Course/Resource Developer: Think Tank for Changing Governmental Gender Paradigms, Washington, DC.
Charise Isis – Photographer, Founder, Executive Director of The Grace Project and Athena Division (Grace Goddess Inc. 501(c)3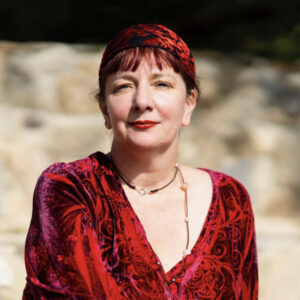 Widely exhibited and published, Charise Isis' photography career spans over 20 years.  Focusing on the feminine principle, she has used her camera to explore themes of self esteem and body image in an attempt to help shift the narrow and impossible beauty standards that exist within our contemporary culture.
Artistically and commercially, most of her work is about empowering women and helping them to let go of shame,  The gaze of her sensitive lens, having lent itself for many years to the feminine principle. Her camera work often explores themes of self esteem and body image issues in an attempt to help shift and expand the narrow and impossible beauty standards that exist within our contemporary culture. Over a decade ago she began "The Grace Project", a series of empowering portraits that capture the courage, beauty and grace of those who have had mastectomy as a result of breast cancer. Since the inception of project, she has created over 600 portraits of women and men affected by breast cancer, with a goal of photographing 800, the approximate number of new breast cancer diagnosis in the United States every day. Eventually she will exhibit all 800 large scale portraits together, illuminating the enormous impact that breast cancer has every day in America. 
Recently awarded the NYFA/NYSCA fellowship grant, Charise's work has been widely exhibited both nationally, and internationally. Her exhibitions include solo shows at esteemed galleries such as the Michael Mazzeo Gallery (NYC); The Griffin Museum of Photography (Winchester, MA); The Center for Photography at Woodstock, Woodstock NY; Miller Gallery, Cincinnati; John C. Doyle & Revealed Gallery, Charleston SC; The Idea Garden Gallery, Kingston NY and upcoming "The Athena Division" of the Grace Project at the National Women's Memorial in Arlington VA featuring female Veterans and active duty military members affected by breast cancer.
Charise's work has been featured in many respected publications throughout the world. Publications include Ms Magazine, Photography Quarterly Magazine, NY; Profifoto Magazine, Germany; NY Arts Magazine; the acclaimed international photography website, Zone Zero; The Huffington Post; Refinery 29 and The Daily mail.
Charise's work is included in numerous public and private collections including those of the Museum of Fine Arts, Houston, TX; The Samuel Dorsky Museum of Art, New Paltz, NY and the Photographers Network Collection, Seigen, Germany.
Event photographs courtesy of Kipp Burgoyne.