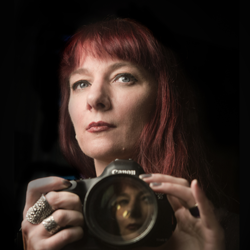 Widely exhibited and published, Charise Isis' photography career spans over 20 years.  Focusing on the feminine principle, she has used her camera to explore themes of self esteem and body image in an attempt to help shift the narrow and impossible beauty standards that exist within our contemporary culture.
Artistically and commercially, most of her work is about empowering women and helping them to let go of shame,  The gaze of her sensitive lens, having lent itself for many years to the feminine principle. Her camera work often explores themes of self esteem and body image issues in an attempt to help shift and expand the narrow and impossible beauty standards that exist within our contemporary culture. Over a decade ago she began "The Grace Project", a series of empowering portraits that capture the courage, beauty and grace of those who have had mastectomy as a result of breast cancer. Since the inception of project, she has created over 600 portraits of women and men affected by breast cancer, with a goal of photographing 800, the approximate number of new breast cancer diagnosis in the United States every day. Eventually she will exhibit all 800 large scale portraits together, illuminating the enormous impact that breast cancer has every day in America. 
Her work has been widely exhibited both nationally, and internationally. Her exhibitions include solo shows at esteemed galleries such as the Michael Mazzeo Gallery (NYC); The Griffin Museum of Photography (Winchester, MA); The Center for Photography at Woodstock, Woodstock NY; Millar Gallery, Cincinnati; John C. Doyle & Revealed Gallery, Charleston SC; The Idea Garden Gallery, Kingston NY and at the National Women's Memorial Museum in Arlington VA.
Charise's work has been featured in many respected publications throughout the world. Publications include Ms Magazine, Photography Quarterly Magazine, NY; Profifoto Magazine, Germany; NY Arts Magazine; the acclaimed international photography website, Zone Zero; The Huffington Post; Refinery 29 and The Daily mail.
Charise's work is included in numerous public and private collections including those of the Museum of Fine Arts, Houston, TX; The Samuel Dorsky Museum of Art, New Paltz, NY and the Photographers Network Collection, Seigen, Germany.
Charise was recently awarded The NYFA/NYSCA fellowship for photography; chosen for the Photo Lucida Top 50 fine art photographers; and awarded a "Flat Visibility Award" by Flat Retreat.
Charise Isis is available commercially for:
Musician portraits and video
Commercial and advertising photography
Editorial
Fashion
Business portraits and personal branding.
Family and heirloom portraits
Boudoir, pin-up and glamour portraits
Charise's gentle but precise nature combined with an innate ability to communicate clearly with her subjects creates in each of her photo sessions a sense of trust with her subject that reflects itself in the resulting photographs.
View some of her commercial work here: www.charise.photography
Contact Charise: (914) 466-4347