December 30, 2017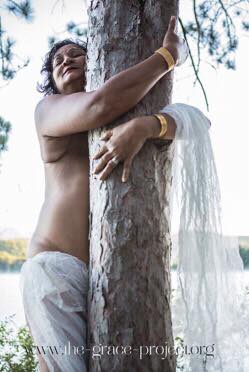 Wishing you a magical 2018… May your year be one of joy, good health, prosperity, love and peace.
Dear Friends,
2017 saw The Grace project shared far and wide and as a result touched many lives.  Some of the highlights included a collaboration with Cincinnati University Hospital which resulted in a stunning exhibition at Miller Gallery in Cincinnati.  Immediately after that we had a gorgeous exhibit at Outnumbered Gallery in Colorado.
In June, the Grace project was exhibited at the FORCE conference which was held in Orlando, during which time I photographed the largest amount of women in the shortest amount of time that I'd ever experienced.  36 in only two days!! What a whirlwind that was!  I converted my hotel into a mini studio… and Goddesses showed up at my door every 30 minutes!  I also got my hand slapped by the concierge at the hotel as I got caught sneaking out to the gorgeous landscaping of the hotel that I was staying at where I attempted to create some epic outdoor mastectomy shots before I got ratted out by tourists.
In September were invited to exhibit at the Susan G. Komen Race for the Cure in Colorado.
In October we hung an exhibit at the fundraiser party "Live at Stage iv", an exhibition that featured 100% Metavivor portraits.  We hope to expand this event in 2018 and help raise even more money for Metavivor.  So ready your dancing shoes and also your marching shoes to get ready to head to Washington DC on October 12 and 13, 2018 to join us for next years big event and the Stage iv Stampede.  On that note: a last reminder for the year… Stage iv needs more.  Stage iv is the cancer that kills.  It needs more funding. You can find out more about this important issue and donate money for research by going to www.metavivor.org
In addition to all of this… The Grace Project got plenty of media attention… we were featured on television several times and were also written about with articles by Refinery 29 and Melanmag.  Here we are on tv! CLICK HERE
In 2017 I photographed well over 100 women (and a few men) for the Grace project. That is mor than 100 people that got to have the empowering and liberating experience of participating in a Grace project photo shoot (the shoots really do have their own magic) and more than 100 closer to our goal of photographing 800 which is the approximate number of new breast cancer diagnosis in the United States every day.
I am so grateful to every person who supported us in 2017.  Whether it was with financial support, volunteering at our events, participating in the project, sharing our posts, giving Joules and I a couch to sleep on or a guest room to crash in on our travels, or those who took us out for a food or made us a home cooked meal (or margarita) while we were on the road… I thank you ALL sincerely.  Can you feel the love?
We are looking forward to exciting things for 2018.  There will be further exhibitions and also the first edition Grace project book is in the works!
We would LOVE your support for 2018.  If you have it in your hearts to financially help us continue our heartfelt mission (there is no contribution too large or small and contributions are still currently tax deductible) Please CLICK HERE.
May your 2018 sparkle!!!!
Charise.