February 14, 2018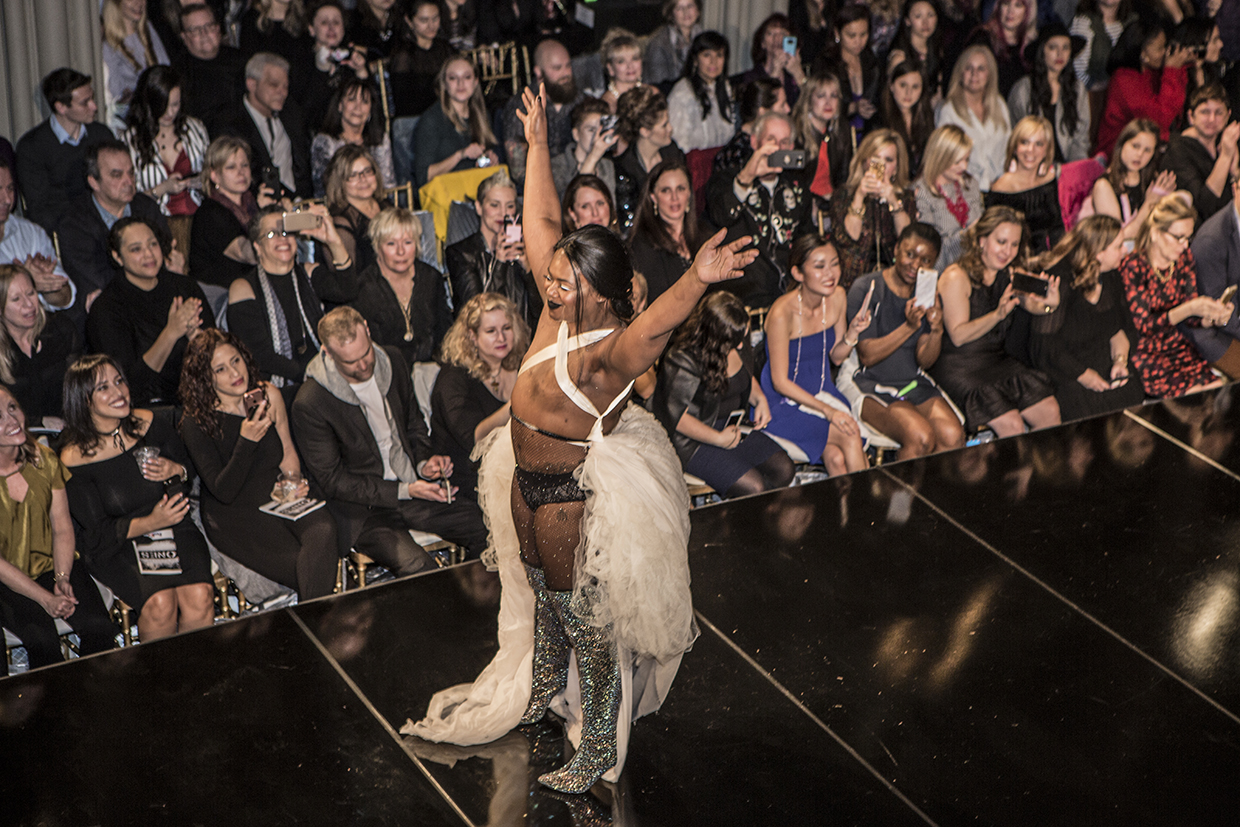 Everyone knows what happens at New York Fashion Week. Beautiful models show off beautiful clothes. But the runway on Sunday afternoon Feb 11th 2018, in New York City, tells a different story. Ana Ono intimates, designed by Dana Donofree, are beautiful, comfortable intimates for mastectomy patients. And, the models who rule the stage are all women affected by breast cancer.
My pIan, armed with my press pass, was to claim a coveted spot in the pit and shoot the models in the midst of their 'strike a pose' moment. Unfortunately NYC traffic and a torrential downpour meant that I was late and looked more like a drowned rat rather than a professional photographer known for glamorous, empowering images. And the pit? It had become a shark tank of photographers all vying for twelve square feet of space. In only its second year, the Ana Ono show has become the place to be, and the paparazzi were out in force. Fortunately, I had a Plan B. The overlooked balcony.   So rather than try to force my way into the prime real estate on the ground I headed upstairs, scoring an awesome spot just above the front edge of the stage.
I started up a conversation with the young man standing beside me. He had traveled from Philadelphia for his mother's birthday celebration, and thought she might enjoy a show. With no prior knowledge of Ana Ono's fashions, he bought tickets for his mother, girlfriend and himself. 
This is no ordinary fashion show, I told them. This is raw, this is all the emotions, and these women, they are 'the dangerous ones.'
I wondered how many other people were sitting in that audience simply because it was New York Fashion week. I wondered how many people were about to have their worlds rocked and their perspective shifted.
Academy Award-winning actress, #metoo activist and Stage IV cancer advocate, Mira Sorvino took the stage and delivered a gut-wrenching introduction. She tried to fight back her tears but to no avail as she shared the story of her childhood friend, Champagne Joy, her battle with and eventual death from cancer. Her heart-felt words resonated with the entire audience and even more so with those who knew of Champagne Joy.
Champagne Joy was a force of Nature.  She lived and breathed her motto, Glitter As You Go, dressing up as the self-proclaimed President of Mars. She was a fierce breast cancer advocate and her death was deeply mourned by the community.  It was haunting to watch as a hologram of Champagne was projected onto a screen of pressed tin above the stage, her voice exhorting us to move forward in our lives, reminding us of the fight that we still have before us, to take up her torch and conquer a disease that has killed so many women.
The scene set, the mood anticipatory and emotion-filled, the models, extraordinary and unique, filed out, strutting confidently downstage in their intimate apparel. Thin, thick, curvy, brown, black, white and Asian, feminine, butch, tall, short, young and old.  Diverse but unified by their fierceness, their scars and their strength. Despite the cancer within, the scars of surgery and the ravages of treatment, these women owned it, and the crowd went wild. The energy in the room was palpable; a constant feedback loop; a celebration of women and a celebration of bodies, real bodies and the human spirit.  Power and empowerment dwelling together in a magical moment which culminated in the whole diverse tribe of models taking over the stage while the crowd roared.  That young man from Philly, his girlfriend and his mother- they clapped and yelled with everyone else in the room. They tore the roof off that sucker!
One in eight women will be affected by cancer in her lifetime. All women are in danger but these women have taken ownership of that danger and turned it on its head.
They are:
Dangerous because they have had cancer and we might lose them.
Dangerous because they are fierce as fuck.
Dangerous because they call into question the narrow definition of beauty we have been trained to believe by fashion and the media. (and they walked the runway at NEW YORK FASHION WEEK!!!!!)
Dangerous because they call for all women, not just those affected by cancer to live in their power.
Dangerous because they let go of fear and shame and boldly step out in a declaration of self love.
Dangerous because they are unapologetic about their bodies.