February 13, 2019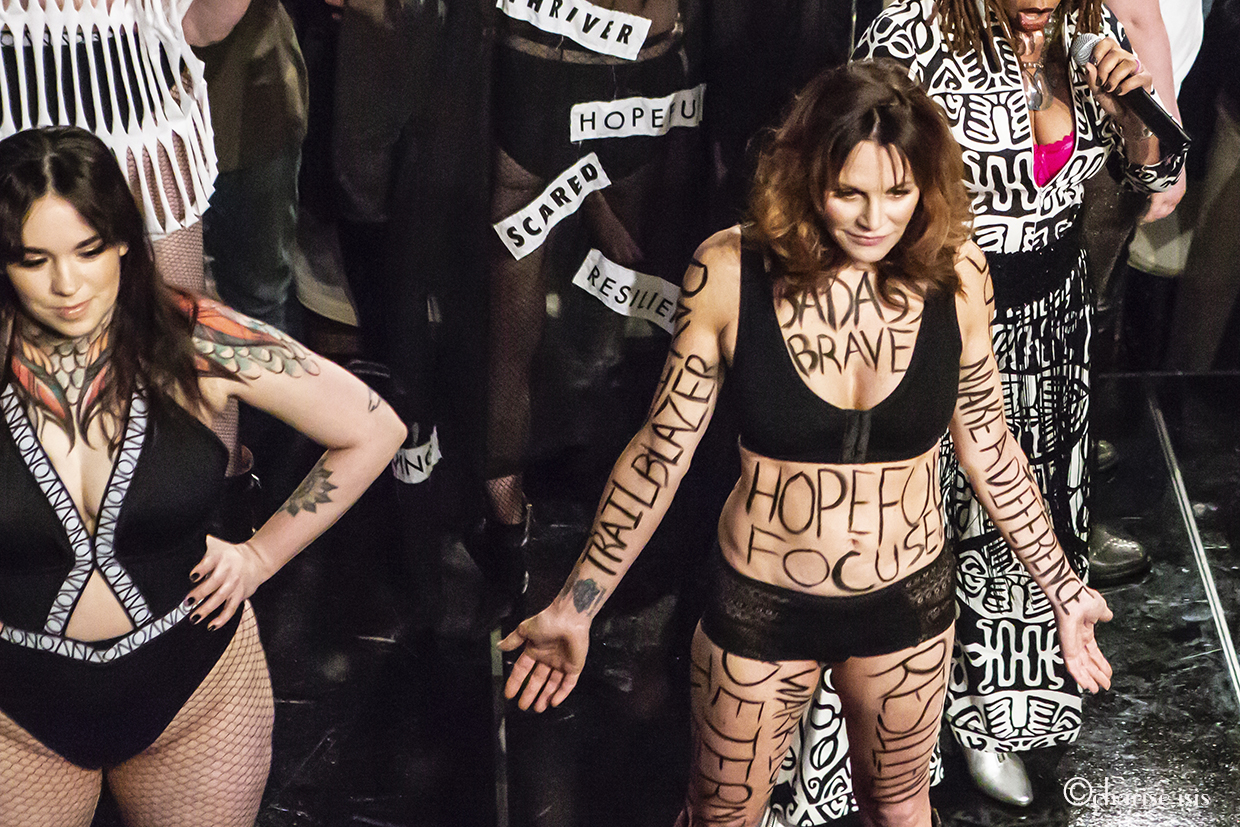 When I think of New York fashion week, my mind's eye sees tall, hungry-looking, size zero models stepping out on the runway with gaunt, emotionless faces. A cacophony of perfume fills the air and the audience is abundant with women, clutching Prada purses.  When the models walk out, the audience oohs and aahs with frozen botox faces, politely clapping at the futuristic designs parading before them. They are speculating on the outfit that they will be wearing to the "such and such" event this season and secretly wondering if they will look fat wearing it.
The Ana Ono runway show, is the antithesis of NYFW.  Rather than being about fashion that is pinched, nipped, tucked and squeezed onto breathless models, Ana Ono Intimates create soft comfortable, incredibly wearable and affordable lingerie and swimwear for women dealing with the after-effects of breast cancer.
And the models, each year, every single one of them, is a woman affected by breast cancer.  And they are diverse! Black, White, Asian, Latina; young and old; tall, short, curvy, thin, stocky, or outright bodacious! Very different from the usual fashion week fare. 
Last year's show took my breath away. I am still left with the memory of the vitality that I and every other audience member walked away with after seeing the overflowing and transcendent beauty and valor.  I wondered how Ana Ono was going to top it this year but when the announcement was made that each woman walking the runway in 2019 was going to be a stage iv metastatic breast cancer patient, I knew this show was going to be devastating.
Metastatic breast cancer is a progression of the disease that affects 30 percent of women diagnosed with breast cancer. A metastatic diagnosis means the cancer has traveled to other organs in the body. It is incurable; at best it is chronic, but most likely it is a death sentence.  There are 113 deaths in the United States every day as a result of metastatic breast cancer. Despite this staggering statistic and the billions of dollars funneled towards pink ribbon breast cancer awareness campaigns, research for stage iv MBC only  receives 3-7% of that funding, a far cry from what would be required to find a cure. Metastatic breast cancer is a killer. It is a frightening disease, and it informed the attitudes of those models walking the runway at the Ana Ono show for New York Fashion Week.
The women who stepped out on the Ana Ono runway this year did not give a damn whether or not they were a size zero.  All they want is to live. They are scarred, bruised and broken from a multitude of treatments and surgeries.  Some have no hair, some who must walk with a cane. They are weary, for not only has cancer caused a severe decline in their physical and emotional health, but the also the devastating loss of friendships, relationships, life savings and income.  Despite their challenges, when they stepped out on the NYFW runway, they overcame.  On this day, they are beautiful, they are badass, each one precious her own right. Today, they are simply glad to be alive and they are fighting desperately to stay that way.
One by one each woman stepped out on the runway for this prescient cause, their heads held high, their bodies decorated with fierce words and symbols affirming their desire for breath; their bodies striking defiant poses and claiming this year's slogans  #NotJustOne and #WeAreNotAlone, a declaration of unity and life.
And on this day they were #NotJustOne and they were not alone, because we, every single person watching their bravado, cheered and hollered and whooped and wailed while our tears freely flowed at this vast celebration of the human spirit.  
As I photographed the show, my plentiful tears would not stop, I barely had time to wipe them away… the knowledge that every click of my camera was defying death by capturing an infinite moment in what is left of the statistically short life of these interminable souls. I love these people.
The Ana Ono runway show raised over $100,000 for metastatic breast cancer research… and empowered and inspired every person watching.  But we have a long way to go and time is running out for these women.
When I got home from the show that night, exhilarated by an incredible day and checked facebook, a friends most recent status read:
"I had a CT scan this week, following some elevated blood work results from my routine oncologist visits, and we found a new tumor in my chest wall/rib– possibly another on my liver."
My heart sunk.
I will have to let her know
That she is #NotJustOne.
To contribute to metastatic breast cancer research please do so through METAVIVOR
To find beautiful comfortable lingerie or swimwear by Ana Ono Intimates CLICK HERE